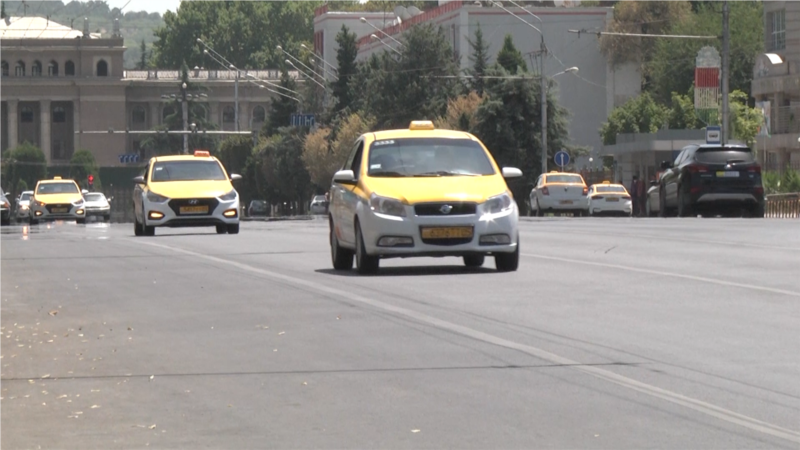 In Dushanbe, taxi fares have risen by almost a third. However, no one gave permission to increase tariffs, according to the capital's mayor's office.
On the roads of Dushanbe, cars with yellow and white livery have long been dominant. This is a taxi. There are thousands of them in the capital. Due to the number of private cabs, which are several times more than trolleybuses, buses and minibuses combined, we can say that today taxis are the most popular mode of transport in Dushanbe.
Until recently, the fare was quite acceptable – 88 cents for the first three kilometers. But recently, prices have skyrocketed. Now, for the same money, you can drive not three, but only two kilometers. A minute of waiting now costs not two cents, but four. From the most comfortable, fast and quite cheap type of transport, the taxi has turned into a way of transportation that is not affordable for everyone.
– Basically, students who travel between university buildings throughout the city have problems.
– How to get to work? Salaries haven't gone up. I think this is very bad.
– Last time they cost three somoni, then they began to cost five. For about a month, people popped up, in the end they paid five somoni.
– Forced to take a taxi. What else to do? Now preparations are underway for the holiday, so all roads are closed. To get somewhere, you have to call a taxi. Now the prices have gone up, and I overpay six or seven somoni each time, which is a lot.
Taxi companies did not make an official announcement about the increase in tariffs. But, as the drivers admit, some of their colleagues have reconfigured the meters and raised the fare. Otherwise, there is simply no point in going to work, they say. Fuel prices – gas and gasoline – have risen significantly, so the not the most highly paid job has become simply unprofitable.
Here's what taxi drivers themselves say about it:
– People complain that it is expensive, and we, taxis, complain to them that petrol and gas are expensive. Yes and no gas at gas stations. He disappeared. You have to drive for hours to find gas.
– I work now only for fuel, there are only pennies left for bread. Even children can't buy clothes.
– Taxi drivers are leaving. No income.
– Many of my acquaintances handed over their cars to companies and quit. People can't pay off their rent. Gas has risen in price by 30 cents. Gasoline rose in price by 35.
The capital's mayor's office denies the very fact of a change in tariffs – they did not give permission for this. The Antimonopoly Service went even further and told local media that it was the first time they had heard of a price increase. True, the administration of the capital admitted that there have been a lot of complaints about expensive taxis recently: they are checking this fact.
"The check on this fact continues. A meeting was held with representatives of taxi companies, where they were instructed to carry out an internal check. This issue was also raised the day before at a general meeting. Any increase in prices for travel without the approval of the responsible structures is prohibited. And such an agreement was not carried out. should not rise, "said Khairullo Kamolov, an employee of the transport department of the Dushanbe mayor's office.
Liquefied gas, which runs up to 80% of cars in Dushanbe, and gasoline have more than doubled since the beginning of the year. And there are no prerequisites that prices will decline. So, it is possible that in the near future the prices for taxi fares will go up officially.
.