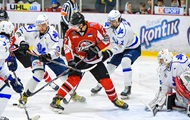 The regular season starts on September 17th.
The Ukrainian Hockey League has completed work on the calendar of matches for the UHL championship for the 2021/22 season.
The regular season (first stage) starts on September 17 with a match between the champion of Ukraine Donbass and vice-champion Sokol. league press service.
In total, this stage will consist of 168 matches, each of the teams will play 42 games. The regular season will run until February 22.
The playoffs (second stage) will be played by the teams that took second to seventh places in the regular season. Spectators will see three stages of the playoffs: the quarter-finals will go up to two wins of one of the teams, and the 1/2 and the final – up to four victories. The decisive series is scheduled for late March-early April.
The calendar, among other things, includes breaks for three international pauses for the national teams of Ukraine, as well as a pause for the Cup of the country.
As a reminder, eight Ukrainian clubs will take part in the new season of the Ukrainian Hockey League Championship: Bely Bars, Dnipro, Donbass, Kramatorsk, Kremenchug, Mariupol, Sokol and Rulav Odd.
.