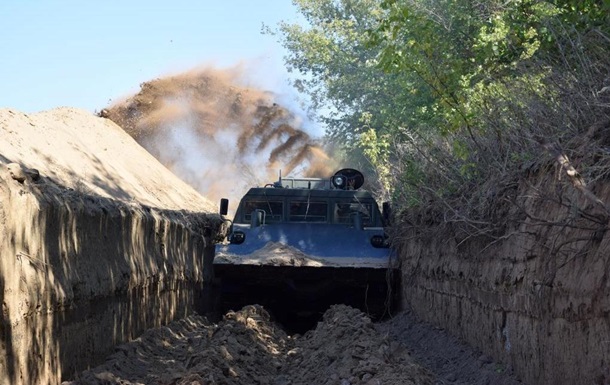 Photo: dpsu.gov.ua
Construction of barriers on the border with the Russian Federation
Both engineering elements and technical means of control will protect the border. At the border in Russia, first of all, they build anti-transport barriers.
In the Sumy region, border guards are setting up anti-transport barriers on the border with Russia. This was announced on Thursday, September 16, according to the press service of the State Border Guard Service.
"The State Border Service continues systematic work to strengthen the engineering infrastructure. Particular attention is paid to the section of the Russian-Ukrainian border. Along with the government plan for engineering the border, in accordance with the departmental measures of the border department, integrated engineering groups have been created," the statement says.
It is noted that the primary task is to equip anti-vehicle barriers in threatened directions "with the subsequent build-up of other elements."
The Border Service also added that in accordance with the legislation and the decision of the National Security and Defense Council, they stepped up work on the inventory of land plots 30-50 meters wide along the state border, which should be provided to border agencies for the construction of engineering and fortifications.
"The proper arrangement of the state border is not only important in the security sphere, but also a defensive aspect," the State Border Service noted, adding that it is not only about border security, but also about reducing the migration risk, the danger of moving terror funds, weapons, drugs substances and products.
In addition, fortification elements make it difficult for the enemy to act in the event of armed aggression.
The State Border Guard Service also reported that a comprehensive model of guarding and protecting the state border is being introduced into practice. The integrated system is based on a combination of engineering elements with technical controls.
We will remind, in May, the border guards reported that the wall on the border with the Russian Federation was half ready. For seven years, the project for the arrangement of the Ukrainian-Russian border has been implemented only by 51%.
As you know, the project of the Wall on the border with Russia in 2014 was proposed by Prime Minister Arseniy Yatsenyuk. In June of the same year, the Cabinet of Ministers approved the project, the cost of which was about $ 150 million.
In July 2017, it became known that the GPU was investigating a large embezzlement during the construction of the Wall.
News from Perild.com in Telegram. Subscribe to our channel
.