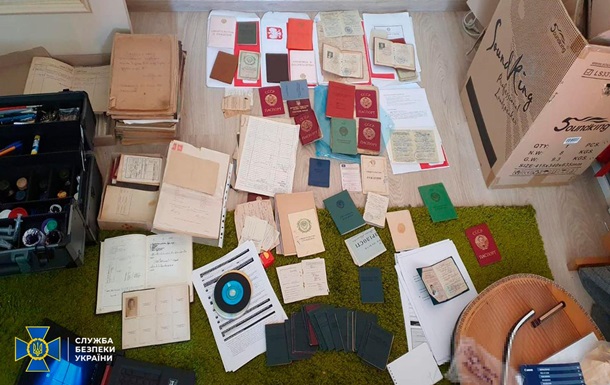 Photo: SBU
Fraudsters were selling fake documents of the USSR sample
The participants in the scheme advertised their services on the Internet as an aid in "finding" Polish roots. Almost 300 people turned to them.
Employees of the Security Service of Ukraine exposed the intruders who falsified the documents necessary to obtain the Pole's card. Illegal "business" was organized by a resident of the Cherkasy region, informs SBU headquarters in Kiev and Kiev region on Thursday, September 16.
It is indicated that the attacker attracted six accomplices to the scheme, including an employee of one of the registry offices and the state registrar, who provided information from official databases.
The participants in the scheme advertised their services on the Internet as assistance in "finding" Polish roots that have legal significance for the subsequent receipt of a Pole's card and documents for permanent residence in Poland. Law enforcers have established that nearly 300 people have contacted the attackers.
"Instead, they sold fake documents of the USSR model, which are the basis for applying to the competent authorities of the Republic of Poland to obtain a Pole's card. On average, each" package of documents "cost 2 thousand euros," the SBU noted.
Law enforcers conducted searches at the addresses of the attackers' residence, during which they found and seized: prepared forms; print; citizens' documents (passports, military cards, officer's certificate, birth certificates; death certificates, house books, union cards, marriage certificates); special devices for making cards.
Now the issue of announcing suspicion to the participants of the scheme under the article on fraud (part 3 of article 190 of the Criminal Code of Ukraine) is being resolved.
Earlier in Lviv, the production of false documents was exposed. The attackers advertised their services through an anonymous server on the Darknet. They produced dozens of false documents a month. Clients were mainly illegal immigrants from the Middle East who wanted to "legalize" in Western countries.
Fake driver's licenses were made and sold in Kiev
News from Perild.com in Telegram. Subscribe to our channel
.