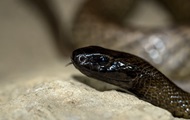 Not far from Ivano-Frankivsk, in the village of Gorodnitsa in the Kolomyisky district, in a secondary school, vipers were noticed, which crawled into an educational institution and arranged a "nest" for themselves. About this on Wednesday, September 15, reported in the Department of Civil Protection of the Population of the Ivano-Frankivsk Regional State Administration.
It is noted that at first one of the teachers saw a viper in the corridor. The school workers were able to catch her on their own. But then two more snakes were seen in the building. The teachers called rescuers.
"The emergency workers pulled one out from under the plinth, it was hammered under the plinth, the second from under the battery. Rescuers even used a special tool to cut, see if there are more of them," Public with reference to the story of the speaker of the State Emergencies Service in the Carpathian region Kristina Pertsovich.
It is also noted that the school building is quite old. It has about 60 students.
Rescuers believe that the snakes crawled into the school from the street, because the doors of the institution were open and the threshold was low.
The viper is a fairly common poisonous snake in Ukraine. There are three types of vipers in our country: Nikolsky's viper, steppe viper and common viper.
Viper venom is toxic and can be fatal. When a poison enters the bloodstream, a general reaction can develop immediately or after a while – half an hour, an hour, but most often this happens after 15-20 minutes. A person has lethargy, headache, nausea, sometimes vomiting, accelerated pulse, dizzy. The most toxic poison of a viper is in the spring.
Recall that 61 people have suffered from snake bites in Ukraine since the beginning of 2021, half of the cases were recorded in July.
News from Perild.com in Telegram. Subscribe to our channel
.