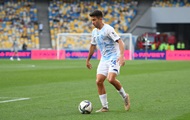 A scandalous episode took place in the Ukrainian Super Cup.
As part of the Ukrainian Super Cup, Shakhtar Donetsk meets with Dynamo.
At the end of the first half, a scandalous episode took place on the field. The Pitmen's defender Marlon knocked the ball out of bounds, indicating to the referee that it was deflated.
Dynamo midfielder Carlos De Pena decided not to give the ball to Shakhtar, but threw it to his partner, telling the team to start their attack.
Shakhtar's footballers Alan Patrick and Marlos immediately ran to the Uruguayan to restore justice. Patrick could not hold back his emotions and pushed De Pena onto the lawn, for which he received a yellow card. After all this, Shakhtar got the ball again.
At the end of the first half, Shakhtar are leading with a minimum score. Available on ISPORT online broadcast of the meeting Shakhtar – Dynamo.
.