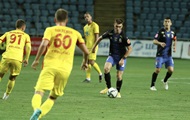 The teams played into an effective draw.
As part of the ninth round of the Ukrainian Championship, Chernomorets hosted Ingulets at home.
The Odessa club took the lead at the end of the first half thanks to a goal from Smirny.
In the second half, the guests began to attack more, but the result did not come. It seemed that the match would be over, but a couple of minutes before the final whistle Ingulets was entitled to a penalty for a foul by Maxim Bragaru. Bartulovich accurately realized the penalty kick.
In the UPL standings Ingulets is in 12th place with 8 points, and Chernomorets is in 14th place with 6 points.
Chernomorets – Ingulets 1: 1
Goals: Smirny, 39 – Bartulovich, 87 (penalty).
Chernomorets: Kucheruk – Vantukh, Dubko, Kadyri (Vachiberadze, 70), Putrya – Avagimyan (Bragaru, 78), Smirny (Tlumak, 59), Kravchenko (Isaenko, 78), Mikhailenko, Tsitaishvili – Vanat (Bugay, 70).
Ingulec: Galchuk – Opanasenko (Melnichuk, 15), Kovalev, Pospelov, Asmelash – Sharay, Kovalenko, Zaporozhets, Kozak (Bartulovich, 81), Polegenko (Plahotniuk, 58) – Sitalo (Gopey, 81).
Warnings: Smirny, Putrya, Kravchenko – Kovalev, Pospelov.
.