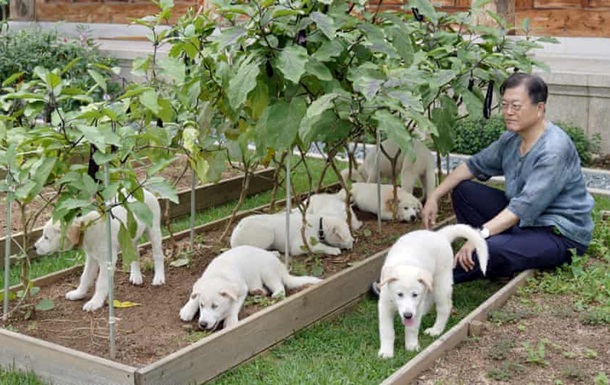 Photo: Cheong Wa Dae Handout / EPA
The pet industry is developing in South Korea
Dog meat is part of traditional South Korean cuisine. It is believed that Koreans eat about 1 million dogs annually.
South Korean President Moon Jae In has launched an initiative to ban the consumption of dogs in the country. This is reported on Monday, September 27 The Guardian citing a statement from the president's office.
In particular, the head of state called on the government to think about an official ban on the consumption of dogs. Moreover, as he stressed, "more and more people in the country perceive dogs as companions, and not as a meal."
As journalists note, such a decision may be influenced by pressure from animal protection organizations, whose role in the country has recently increased. In addition, young people do not perceive dogs as food.
President Moon is a well-known dog lover and has several dogs in his residence. He saved one of them after taking office.
South Korea's animal welfare law is primarily aimed at preventing the cruel slaughter of dogs and cats, but does not prohibit consumption itself.
Recall that the Parana Court of Appeal in Brazil granted the right to two dogs, victims of abuse, to sue their former owners.
News from Perild.com in Telegram. Subscribe to our channel
.