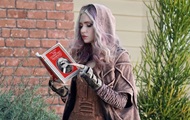 Vivid photos of the events of the outgoing working week of October 4-8, 2021: how Ukraine and the world lived.
Perild.com presents a selection of interesting and memorable photos of the events of October 4-8.
Divers inspect the Podolsky Bridge in Kiev. Icebreaker James Clark Ross arrived in Odessa. The Ukrainian-Romanian exercise Riverine-2021 has ended.
A queue of ambulances with COVID patients has formed in the Lviv hospital. In the Khmelnytsky region, 12 tons of grain were burned.
A fraudulent call center has been exposed that defrauded foreigners for $ 7.5 million.
Irena Karpa was thrilled with the pictures without underwear. Madonna accidentally showed herself without filters. Singer Grimes walked with the Karl Marx Manifesto.
Daniel Craig received a star on the Walk of Fame. National Geographic 2021 photo winners announced.
In the Poltava region, archaeologists have found unique jewelry. In Dnipro, a woman burned UAH 50,000 in an apartment "by the order of a voice."
The United States has tested F-35 fighters for a thermonuclear strike. In Oman, 13 people became victims of a powerful cyclone.
Savchenko in a burqa, Usik and the Canaries: photo of the week September 27 – October 1
News from Perild.com in Telegram. Subscribe to our channel
.