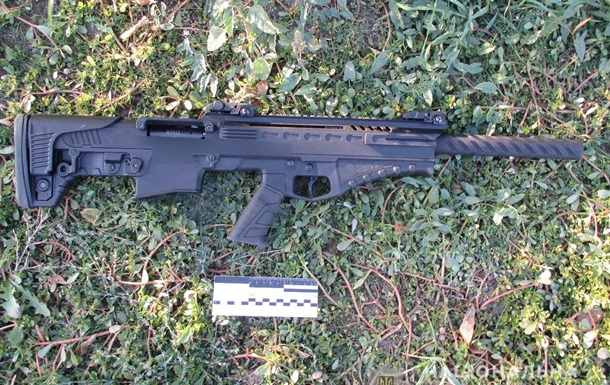 Photo: mvs.gov.ua
The attackers had a whole arsenal of weapons with them.
The perpetrators were residents of the Zaporozhye and Dnepropetrovsk regions aged 23 to 31 years.
In the village of Blagodatnoye, Pologovskiy district, Zaporozhye region, a group of armed young people forced the chairman of a farm to re-register the ownership of the property. About this on Sunday, October 10, reported press service of the Ministry of Internal Affairs.
"A group of young people arrived in the territory of one of the farms in the village of Blagodatnoye in three cars. With a demonstration of weapons, they threatened to take the harvest, forced the chairman of the farm to re-register the ownership of the property and give his share of the inherited complex of agricultural farming," the message says. …
To prove their words, the attackers cut a tractor wheel and several wheels of the company's official vehicles.
Arriving at the scene, law enforcement officers stopped the illegal actions of the violators. A whole arsenal of weapons was seized from them: four hunting smooth-bore rifles, three traumatic pistols of the PMT, PMR and Fort 12 brands, 24 hunting cartridges, 18 cartridges for pistols, 18 cartridges with rubber bullets, nine plastic cartridges.
All weapons have been sent for examination.
As it was found out, the residents of Zaporozhye and Dnepropetrovsk regions aged from 23 to 31 were engaged in the raiding.
On this fact, criminal proceedings were opened on the illegal handling of weapons, ammunition or explosives (part 1 of article 263 of the Criminal Code) and compulsion to fulfill or non-fulfillment of civil obligations (part 2 of article 355 of the Criminal Code). The defendants face up to seven years of restriction of freedom.
Earlier in the Dnipropetrovsk region, a group of men was detained who, threatening farmers with physical violence, demanded to stop harvesting sunflower crops.
Raiders were detained in Kiev while trying to take over the enterprise
News from Perild.com in Telegram. Subscribe to our channel
.