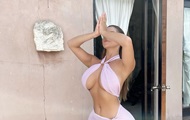 A selection of vivid photographs and illustrations of the events that took place in Ukraine and the world on October 13, 2021.
Perild.com presents a selection of interesting and memorable photos of the October 13 incidents.
An exhibition of weapons has opened in Kiev. Checkpoints have been set up in Odessa to check COVID certificates.
In the Kharkiv region, 160 thousand liters of alcohol were seized. The heads of the state-owned enterprise profited from the repair of armored vehicles.
British Kardashian excited with "hot" photos. The puffy Lizzo amazed with her "naked" dress. In the Sumy region, they sell canned food with the "air of the homeland".
In Odessa, a minibus crashed into a post, there are victims. In Kharkov, a trolleybus rammed a stop.
The SBU announced the interception of the Russian drone. Pyrotechnics defused 155 WWII-era ammunition.
In the Odessa region there was an explosion in an apartment, there are victims. In the Washington metro, the train derailed.
"Bloody" advertising, art metro and dollars: photo of the day October 12
News from Perild.com in Telegram. Subscribe to our channel
.