Desna and Alexandria could not identify the strongest among themselves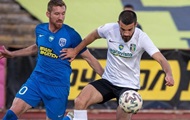 The clubs shared points among themselves.
On Friday, October 22, as part of the 12th round of the UPL, Desna hosted Alexandria. The match ended in a 1: 1 draw.
The teams scored a goal in the first half, and stopped there. The second half of the meeting was more active, but none of the teams was able to realize their chances.
After 12 rounds, Desna is in 7th place with 18 points, and Alexandria is in 6th place with 19 points.
Desna – Alexandria 1: 1
Goals: Bezborodko, 35 – Tretyakov, 27
Right: Litovka – Safronov, Tsymbalyuk, Selin, Kartushov – Kalitvintsev, Zaviyskiy, Dombrovskiy, Bolbat – Yurchenko (Budkovskiy, 74) – Bezborodko
Alexandria: Bilyk-Miroshnichenko, Bukhal, Baboglo, Kiryukhantsev (Stetskov, 67, Mustafaev, 73) – Tretyakov, Dryshlyuk (Demchenko, 58), Fishing, Kalyuzhny, Tsurikov – Spinelli (Ustimenko, 67)
Warnings: Budkovsky, Tsymbalyuk – Dryshlyuk, Tsurikov, Kalyuzhny, Ustimenko
.