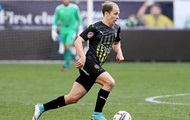 The teams could not identify the strongest among themselves.
On Sunday, October 24, as part of the 12th round of the UPL, Rukh hosted Minaj. The match ended in a draw with a score of 2: y.
In the first half of the meeting, only the guests were able to score, but in the second half Ruh was able to equalize the score, and twice. The team from Lviv lost twice during the match, but managed, in the end, to snatch one point into their "piggy bank".
After 12 rounds, Rukh is in 10th place with 12 points, and Minaj is in 12th place with 8 points.
Rukh – Minai 2: 2
Goals: Alvarenga, 48, Klimchuk, 72 – Ahmedzade, 13, Bilonoga, 67
Movement: Bandura – Lyakh (Mysyk, 26), Martyniuk, Stamenkovich, Sych – Karasyuk – Klimchuk (Kuzyk, 87), Talles, Pritula, Alvarenga (Runich, 58) – Tafari (Kondrakov, 46).
Pass: Kucher – Sinegub, Veklyak, Matic, Gonchar – Petrusenko – Akhmedzade (Knysh, 71), Meskhi (Khakhlev, 87), Kuliev, Bilonog (Kobak, 87) – Vishnevsky (Seleznev, 50).
Warnings: Stamenkovic, 59, Runic, 79 – Ahmedzade, 61, Knysh, 76
.