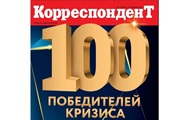 Despite the pandemic, the richest Ukrainians not only preserved, but also increased their wealth.
Correspondent magazine has compiled another rating of the 100 richest Ukrainians who were able to even increase their capital, despite the coronavirus pandemic.
The total fortune of the rating participants was $ 46.1 billion.
It is noted that this year the formation of the rating was influenced by a significant increase in world prices for food raw materials. That is why several agricultural entrepreneurs appeared in it, who were previously outside the hundred. And those that were already in the rankings climbed higher.
At the same time, there are only two representatives of the IT sector in the rating, since most of them develop abroad.
"We view the top 100 not as a banal competition in the size of wealth, but as a rating of those who are growing the Ukrainian economy," the authors of the rating emphasize.
Traditionally, the list is headed by Rinat Akhmetov, Igor Kolomoisky and Viktor Pinchuk.
The list includes representatives from growing sectors of the economy such as retail, logistics and pharmaceuticals.
Retail representatives include Gennady Vykhodtsev, the head of the board of founders of the Foxtrot group of companies, Stanislav Ronis, owner of the Komfi electronics chain stores, and Valery Kiptyk and Ruslan Shostak, co-owners of the Varus and Eva retail chains.
Logistics is represented by the co-founders of Nova Poshta Vyacheslav Klimov and Vladimir Popereshnyuk, as well as the founder of Nibulon Alexei Vadatursky.
Pharmaceuticals – one of the owners of the pharmaceutical corporation Arterium Konstantin Zhevago, the head of the Supervisory Board of Farmak Filya Zhebrovskaya, as well as the owner of the pharmaceutical company Darnitsa, which is the largest shareholder of the Borshagovskiy chemical-pharmaceutical plant, Gleb Zagoriy.
News from Perild.com in Telegram. Subscribe to our channel
.