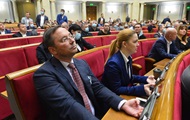 The parliament considered amendments to the budget for several working days, but did not pass any of them.
The Verkhovna Rada at a meeting on Tuesday, November 2, by 273 votes, adopted the state budget for 2022 in the first reading.
Further, the Cabinet of Ministers must prepare a bill for the second reading with the conclusions of the parliament.
On October 20, the Rada adopted draft 6000-P and began considering more than 3 thousand edits. However, all edits were rejected.
.