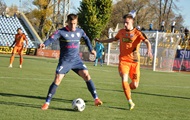 Ostap Markevich's team beat the rival thanks to a double by Alexei Kashchuk.
Mariupol defeated Minai on the road in the match of the 14th round of the Ukrainian championship. The meeting ended with a score of 2: 0 in favor of the Azov team.
Ostap Markevich's team scored a goal in each half. Midfielder Oleksiy Kashchuk scored in both cases.
The midfielder took his team ahead in the 45th minute, and in the 81st set the final score of the match.
It is worth noting that both teams finished the meeting with ten men. In the 73rd minute, the guests' midfielder Oleg Ocheretko received a red card, and at the end of the meeting the referee sent off the player Minay Rustam Ahmedzade.
In the 77th minute, the home team's defender Oleg Gonchar missed the penalty.
Thanks to the victory, Mariupol interrupted the five-match streak of defeats in the Premier League. Markevich's charges take 16th place with seven points. Minaj is on the 14th line (eight points).
Pass – Mariupol 0:2
Goals: Kashchuk, 45, 81
Pass: Penkov, Petrusenko, Kuliev, Bilonog (Kovalenko 79), Meskhi (Knysh 54), Gorin, Gonchar, Matic, Myakushko (Bagayoko 64), Vishnevsky (Akhmedzade 54), Sinegub
Mariupol: Turbaevsky, Topalov, Ocheretko, Mishnev, Kashchuk, Vyunnik (Svityukha 70), Mampassi, Drambaev (Bosancic 70), Peterman (Shostak 60), Stasiuk, Melichenko
Warnings: Kuliev 27, Matic 49, Meshi 51, Ahmedzade 90 + 6 – Kashchuk 45 + 1
Removal: Ahmedzade, 90 + 7 – Ocheretko (Mariupol), 73
.