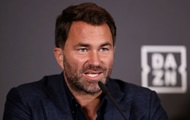 Promoter Anthony Joshua doesn't know exactly where and when the fight will take place.
Promoter of former World Heavyweight Champion Anthony Joshua (24-2, 22 KOs) Eddie Hearn in an interview for iFL TV admitted that he had not yet met with his colleague, the promoter of the Ukrainian heavyweight champion in the versions of WBA, IBF, WBO and IBO Oleksandr Usik (19-0, 13 KOs), Oleksandr Krasyuk, to discuss the conditions for a rematch between boxers.
"I spoke with Alex Krasyuk, we will meet with him. We have a very busy schedule, we will have ten shows in seven weeks in six different countries, the first of which will take place this weekend in Sheffield."
"I have to find time so that we can meet with him and discuss everything. I still think that the revenge will take place in late March – early April, this is the most real time for this."
Hearn answered the question whether Britain is considered the favorite in the fight for the right to fight on its territory.
"Yes, most likely. We will look at all the options, we have connections for that, but I would like to have this fight again in Britain. I think the atmosphere was great last time and I would like to repeat it."
Recall that it became known who can train Joshua before rematch with Usik.
.