Garmash: There was a desire to crack Wax for his removal at the Donbass Arena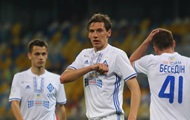 The Ukrainian spoke about the removal in 2012.
Midfielder of the Ukrainian national team and Dynamo Kiev Denis Garmash shared his memories of the deletions in his career.
According to the Ukrainian footballer, he received most of the red cards for talking.
"I received five red cards. There were more for conversations. Only one – this … When the card is deserved, I do not feel anything, and when it is not on business – it takes anger, it is unfair."
Garmash also spoke about the sending-off that happened in the Shakhtar – Dynamo match in 2012.
"Everything was clear – it was necessary for them to remove me. Wax (match referee – approx.) Told me that I went out of the field and started running across the field to the doctor without permission. Well, I did not leave the field. It was VAR. It was unfair. Then he was disqualified for 10 matches, but what's the point if Shakhtar won.
I had a desire to crack him, but then I would be disqualified by 10 ".
The Ukrainian told how to punish the judge for mistakes.
"If the referee made an obvious mistake, then go to the first or second league for six months. There are no penalties. The team lost 3 points or played a draw, but there are no penalties for them.
I would disqualify for six months or a year, let him then tell further. Then they canceled the red one for me, but what's the point? They took 3 points, "Garmash said in an interview with the YouTube channel. BurBuzz.
This season Garmash played 13 games in the Ukrainian championship, in which he scored six goals.
.