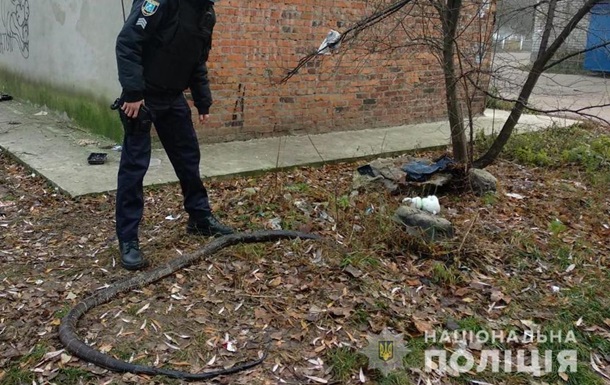 Photo: National Police of Ukraine
Cops find out where the snake came from on the street in Shostka
The police are conducting an inspection in which they find out the possible owners of the reptile.
In the center of Shostka, Sumy region, a local resident discovered a large snake near the garbage cans. About it informs National Police on Sunday, November 14.
The patrol police response team who arrived on call found that the snake was already dead. The applicant said that teenagers had told her about the unusual find.
It was preliminarily established that this is a python, more than three meters long. The police are conducting a check, in which they find out the possible owners of the reptile and how it ended up on the street, the message says.
In turn, law enforcement officers reported the find to the State Food and Consumer Service, whose employees took the snake to the veterinary hospital, reports Shostka.INFO.
"She was already lifeless and began to decompose. As I understand it, someone brought her home, and when she disappeared, they took her to the trash. If there is any production, a study will be carried out. If not, then it will go to the biothermal pit and that's it, "said Tatyana Vorona, head of the Shostka city district administration of the State Food and Consumer Service.
The day before, it was reported that a woman from Kiev had found a crocodile in a flower bed. The zoologist believes that they tried to treat the animal, but it died.
In the Kharkiv region, a python entered the dwelling of a local resident
News from Perild.com in Telegram. Subscribe to our channel
.