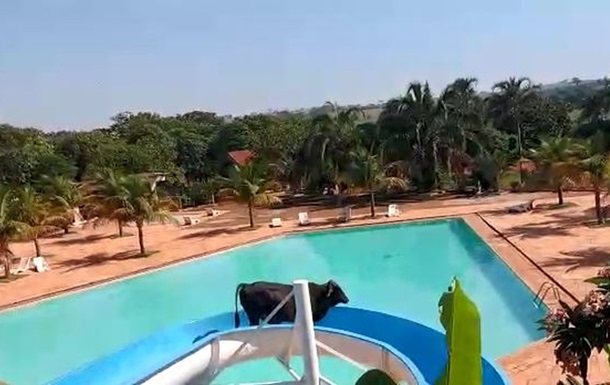 Photo: Video screenshot
Runaway bull on the slide in the water park
The animal decided to "ride" on one of the slides and got into the video. The story ended happily: the owner left the newly minted social media star on the farm.
The Brazilian bull, which was supposed to be sent for slaughter, fled from the farm to a nearby water park and "rode" on the attraction. The story of the animal was told by the news portal G1.
The owner of a farm in the municipality of Nova Granada, Carlos Miguel Cerante, was about to take a two-year-old bull to the slaughterhouse, but he fled from the pasture.
The animal went to a nearby water park and "decided to ride" on the water slides.
The adventures of the runaway bull were captured by a camera: first he climbed the steps and ended up on a slide, and then slowly began to slide down, getting stuck halfway to the pool.
Park employees helped him to get out, who with the help of ropes pulled him into the water, and then pulled him out of the pool. It is noted that the bull was not injured and was returned to its owner intact.
After the incident, the animal became a local star, and Cerante changed his mind about killing him. He named the bull Toboga (a hill in Portuguese) and made him a pet.
https://www.youtube.com/watch?v=1KPxLzgSDVA
Earlier it was reported that in Canada, a river beaver took 150 cows from pasture.
In the Carpathians, a cow swam in a pool
News from Perild.com in Telegram. Subscribe to our channel
.