Ukraine held exercises with shooting near Crimea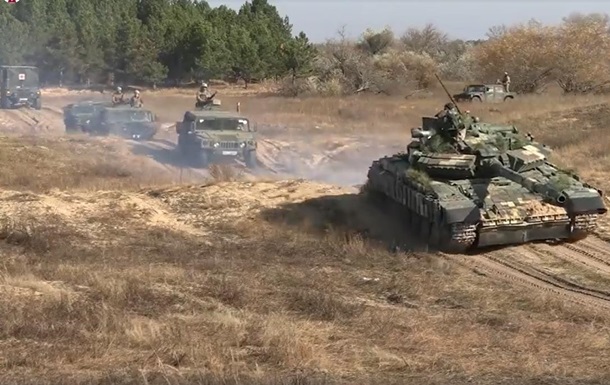 Photo: Still from video
Military exercises near Crimea
The military successfully coped with the task – during the raid they occupied the commanding heights and repulsed the conditional enemy.
In the Kherson region, near the administrative border with the temporarily annexed Crimea, battalion tactical exercises of the marines with live fire and the involvement of aviation were held. About it informs press service of the Ministry of Defense of Ukraine.
In addition to the Marine Corps battalion, a tank company and a helicopter unit of the Army Aviation took part in the exercise.
"According to the legend of the exercises, the advanced unit, supported by army aviation, repulsed a mock enemy Marine detachment that was trying to break through the defenses. In addition, the marines, with the support of tanks and artillery, made it impossible for the main enemy forces to move deep into the defense," the ministry said in a statement.
It is noted that the servicemen coped with the combat mission, during the raid they occupied the commanding heights and repulsed the conditional enemy.
"Tactical exercises are an integral part of the process of maintaining the combat capability of subunits. During the training, the personnel received combat practice, and the commanders worked out interaction in conditions close to combat. Their main goal was that everyone in their place makes timely and informed decisions." – said the commander of the Joint Forces of the Armed Forces of Ukraine, Lieutenant General Sergei Naev.
Prior to this, anti-tank exercises took place in the Azov Sea. The Armed Forces of Ukraine carried out fire missions to defeat the targets of a simulated enemy, carrying out launches from anti-tank missile systems.
Earlier, Korrespondent.net wrote that the Armed Forces of Ukraine destroyed the paratrooper of the imaginary enemy. A battery of self-propelled artillery mounts Gvozdika fired at coordinates provided from the UAV.
.