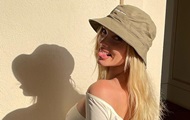 A selection of vivid photographs and illustrations of events that took place in Ukraine and the world on November 16, 2021.
Perild.com presents a selection of interesting and memorable photos of the events of November 16.
Spider-Man has confirmed a relationship with Zendaya. In Odessa, a passport was issued to a 104-year-old woman.
Iraq is taking its citizens from Belarus. In the Odessa region, there was a large fire at a recreation center.
A child died in an accident in the Lviv region. In Kiev, the artist Poyarkov got into an accident. In the Lviv region, eight children were injured in an accident.
A lockdown was announced in New Delhi due to smog. Canada has experienced "the worst storm in 100 years."
Two cars were blown up in Kabul: there are casualties. Ukraine has strengthened the western border with the National Guard.
Halle Berry came to the talk show in a dress without underwear. Elsa Hosk admired the image in transparent clothes.
The Ukrainian woman with the largest cheekbones in the world showed her "new" breasts.
Plage girl, air show in the UAE and an accident of the people's deputy: photo of the day on November 18
News from Perild.com in Telegram. Subscribe to our channel
.