50 days of hunger strike and fainting. What's with Saakashvili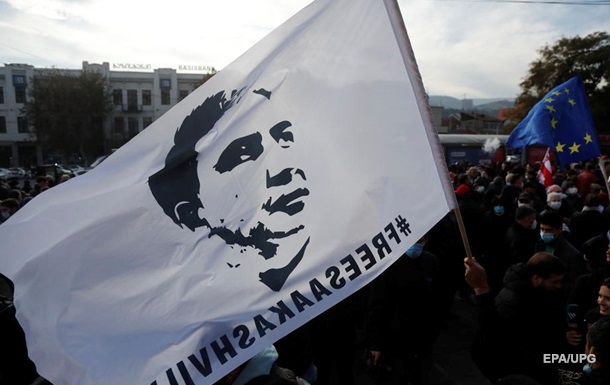 Saakashvili in critical condition
Georgian Ombudsman Nino Lomjaria said that the third president of Georgia, Mikheil Saakashvili, is dying.

Mikheil Saakashvili has been on hunger strike for 50 days in a Georgian prison. All this time, supporters of the politician in Georgia are protesting and demanding his release, while the authorities are trying to ignore these protests and, in general, all the noise around Saakashvili. But it seems that the situation is gradually reaching a critical point – the state of politics has critically deteriorated.
Fainting
Miho is in the prison hospital in Tbilisi. On Thursday evening, Saakashvili fell down and lost consciousness for a while, this happened during a meeting with lawyers. Later, his condition stabilized.
On Thursday evening, the US State Department said it was closely monitoring the situation around Saakashvili and urged the authorities to heed the recommendations of the Georgian human rights ombudsman, who recently called for his transfer to a civilian hospital.
Death threat
Georgian Ombudsman Nino Lomjaria said that Saakashvili had seizures against the background of Wernicke's encephalopathy, which could be fatal. Wernicke's encephalopathy is a neurological disorder characterized by brain damage resulting from a deficiency of thiamine (vitamin B1). Typically, this disease occurs in people with chronic alcoholism. However, numerous cases of Wernicke's encephalopathy have been described, caused by a decrease in the intake or impaired absorption of thiamine in the body with indomitable vomiting and diarrhea (including with toxicosis of pregnant women), unbalanced parenteral nutrition, surgical interventions on the gastrointestinal tract (including bariatric operations), systemic diseases, hyperthyroidism, multiple organ failure, etc.
The Georgian ombudsman says Saakashvili developed seizures, "one of the most serious complications" caused by Wernicke's encephalopathy.
Lomjaria emphasized that the politician urgently needs to be transferred to a high-tech hospital and undergo a full MRI / MRA examination to assess focal processes in the brain, as well as MR venography.
The Ombudsman also said that without being transferred to a hospital, Saakashvili could develop epilepsy, which could be fatal.
"The Public Defender and the group of experts once again call on the Minister of Justice / Special Penitentiary Service to immediately transfer Mikheil Saakashvili to a properly functioning multidisciplinary hospital with extensive experience, since more serious complications are obvious – the likelihood of developing status epilepticus caused by Wernicke's encephalopathy, or coma, which may result in lethal outcome, "the ombudsman said in a statement.
The Georgian Ministry of Justice announced on November 19 that the politician would be transferred to a military hospital in the city of Gori.
"This is not the multidisciplinary medical institution recommended by Mikheil Saakashvili's doctor. I hope that there will be appropriate specialists and equipment to save Mikhail's life and stabilize his health! " – posted on Facebook by his girlfriend, MP from the Servant of the People Yelizaveta Yasko.
The Adventures of Miho
In late September, Saakashvili, now 53, secretly returned to Georgia from Ukraine, where he had lived for the past years, and was detained on October 1. In Georgia, he was charged in several criminal cases, in two of them he was convicted in absentia and sentenced to six years in prison. Immediately after his arrest, the ex-president went on a hunger strike to protest the persecution, which he considers political.
.