Minaj and Ingulets did not reveal the strongest in the scoring shootout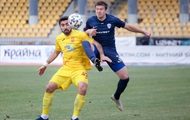 The teams were unable to identify the strongest.
On Sunday, November 21, within the framework of the 15th round of the UPL, Minai hosted Ingulets. The match ended in a 2: 2 draw.
The guests were the first to score, namely Maxim Kovalev. The Ukrainian on the 28th minute of the match unsealed the opponent's goal.
Minaj was not discouraged for a long time because of Ingulets' leadership, having turned the course of the match by the break. Goals from Seleznev and Gorin helped the club move forward.
When the match drew to a close, the away team's forward Mikhail Plokhotnyuk was able to snatch one point for Ingulets, scoring the decisive goal in the 80th minute.
Minai – Ingulets 2: 2
Goals: Seleznev, 39, Gorin, 45 + 1 – Kovalev, 28, Plohotnyuk, 80
Pass: Kucher – Gonchar, Gorin, Semenko, Sinegub – Meskhi, Petrusenko – Bilonog (Baidal, 76), Khakhlev, B. Kovalenko (Kobak, 76) – Seleznev (Vishnevsky, 56).
Ingulec: Galchuk – Asmelash, Pospelov, Kovalev, Opanasenko (Golovkin, 83) – Korobenko (I. Kovalenko, 46) – Polegenko, Zaporozhets, Bartulovich (Lupashko, 46), Kozak (Sharai, 62) – Gopei (Plohotnyuk, 62).
Warnings: Petrusenko, Meskhi – Korobenko, Bartulovich, Gopei
Deleting: Meshi, 90 + 2
.