Dynamo will not receive money from Olympia according to Derlis Gonzalez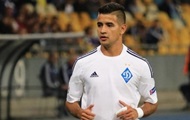 The Paraguayan club has financial problems.
Olimpia board member Pedro Balotta said the club would not pay Dynamo's debt for Derlis Gonzalez.
According to the functionary, the Paraguayan club has financial problems, because of which it is not able to manage money.
"The club has no money. Not paid, not because we want it – you have to shell out a lot of money, a difficult situation.
We will not pay, because we have nothing. We need to work to make it happen ", – quotes the words of the functionary
Recall that last year Olympia acquired Gonzalez for $ 5 million. The club was supposed to pay in several tranches, but did not. FIFA conducted an investigation, after which it obliged the Paraguayans to pay the Kiev Dynamo the debt, otherwise sanctions will follow.
It is noted that Olympia is ready to accept FIFA sanctions, which will follow after November 26.
.