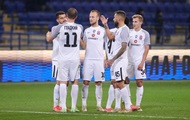 The coaches announced their lineups for the fight.
As part of the fifth round of the group stage of the League of Conferences, Roma will host the Luhansk Dawn at home.
The head coaches of the teams decided on the starting lineups for the fight.
Roma: Patricio – Mancini, Smalling, Kumbulla – Karsdorp, Veretu, Mkhitaryan, El Shaarawy – Perez, Abraham, Zanyolo.
Spare: Fusato, Ibanez, Pellegrini, Shomurodov, Reynolds, Mayoral, Diavara, Beauvais, Darbo, Missouri, Zalewski, Tripy.
Zarya: Matsapura – Favorov, Vernidub, Imerekov, Juninho – Sayyadmanesh, Buletsa, Tsvek, Kabayev – Gromov, Shahab.
Spare: Saputin, Zhilkin, Khomchenovsky, Gladky, Nazarina, Frimpong, Christian, Snurnitsyn, Alefirenko.
The match Roma – Zorya will start at 22:00 Kyiv time. ISPORT available online broadcast of the meeting.
.