Roma – Zorya 4: 0 Video goals and review of the Conference League match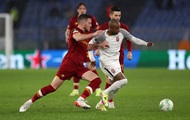 For your attention the brightest moments of the meeting.
As part of the fifth round of the group stage of the League of Conferences, Zarya met with Roma on the road.
At the start of the match, the Roman club took the lead thanks to a goal from Perez. In the middle of the half, Roma increased their lead by scoring the second goal. The goal was scored by Zaniolo. At the end of the first half, the Roman club could have scored a third, but Veretu failed to beat Matsapura from the penalty spot.
Already in the first minute of the second half of the meeting, Roma scored the third, and Abraham became the author of the goal. The Englishman managed to make a double a little later, scoring an elegant ball. Abraham shot through himself, catching Matsapura by surprise.
To your attention video goals and an overview of the match Roma – Zorya:
Roma – Zarya 4: 0
Goals: Perez, 15, Gianolo, 33, Abraham, 46, 75
Roma: Patriciu – Mancini, Smalling (Ibanez, 70), Kumbulla – Karsdorp, Veretu, Mkhitaryan (Missori, 78), El-Shaaravi (Zalevsky, 70) – Perez, Abraham (Mayoral, 76), Zaniolo (Shomurodov, 70).
Zarya: Matsapura – Favorov, Vernidub, Imerekov, Juninho (Snurnitsyn, 70) – Sayadmanesh, Buletsa, Tsvek, Kabaev – Gromov (Gladky, 46), Shahab (Nazarina, 46).
Warnings: Karsdorp, Mancini
.