The oldest Eurasian jewelry found in Poland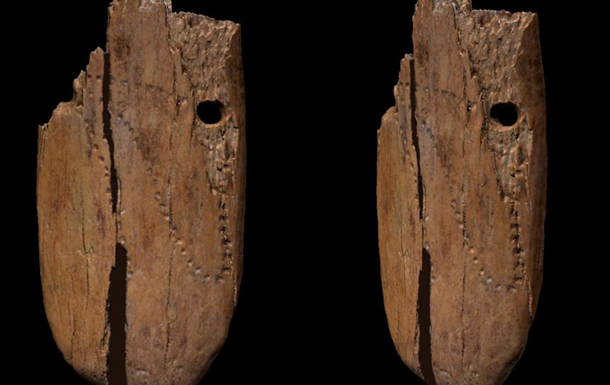 Фото: Antonino Vazzana/BONES Lab
Ivory pendant
It is also known that earlier similar jewelry was found in different parts of Europe. They belonged to the Cro-Magnons.
In the Polish Steinja Cave, scientists have discovered the oldest jewelry dating back over 41.5 thousand years. This is stated in the magazine Scientific Reports.
Scientists have found a bone awl and an ivory pendant. The age of the artifacts was determined using radiocarbon analysis.
"This decoration speaks of the extraordinary creativity of the people who lived here, as well as their ability to handle tools. The thickness of the pendant is only 3.7 mm, which speaks of the incredible dexterity with which holes were made and patterns were drawn in it." noted one of the authors of the article, a researcher at the University of Wroclaw Violetta Nowachevska.
It is noted that these artifacts were made by the first Cro-Magnons in Europe. Since the Neanderthals were gone by that time.
Scientists have focused more attention on the suspension. It looks like a thin bone plate 3.7 mm thick, several centimeters long and wide. The pendant is completely covered with a pattern of circles and lines.
It is assumed that these patterns eventually add up to a moon phase diagram or a counting tablet.
We will remind, earlier in the Ternopil region, archaeologists unearthed unique artifacts of the 18th century.
Archaeologists have found unique artifacts on the territory of Sofia Kievskaya
.