UNA's budget in the first year of operation will be 96 million euros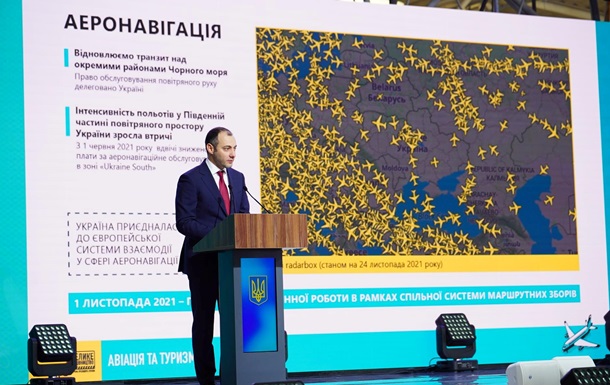 Photo: Facebook / Alexander Kubrakov
Infrastructure Minister Alexander Kubrakov at the Forum Large Construction: Aviation. Tourism
The Ukrainian national airline UNA will start operating flights on two domestic and 14 international routes in 2022.
The new Ukrainian national airline, whose working name is Ukrainian National Airlines (UNA), will begin flights in 2022 from two domestic and 14 international destinations. The air carrier's budget for the first year of operation will be 96 million euros. It is reported by CTS.
"We will start domestic flights in 2022 with two destinations. Then, in 2023, we will open eight destinations. By 2026, domestic flights will cover eight destinations and 7,000 flights a year," Patrice Fazier, a consultant to the French consulting company Aerogestion, told Forum Large construction: Aviation. Tourism.
He added that also next year, flights on medium-haul routes will begin, there will be 14 of them.
"In this segment, our plan for 2023-2026 is 37 destinations. In 2026, on average, the medium-haul network will be represented by more than 15 thousand flights a year," Fazier added.
By 2026, it is planned to expand the network of long-haul flights to five – with 2.1 thousand flights a year.
The expert noted that the UNA fleet must be certified by EASA, FAA and Ukrainian aviation regulators.
"The fleet will have three types of aircraft: narrow-body turbojets for 150-180 seats, turboprop for 68-70 seats and long-range jets for 300-330 passengers," the specialist said.
According to him, three to five planes are planned in 2022.
We will remind, on Thursday, November 25, President Vladimir Zelensky announced the creation of a new airline. The carrier will be created with the participation of the European aircraft manufacturer Airbus.
It also became known that Ukraine intends to invest 34 billion in the aviation industry until 2030. The action plan will provide for the modernization of the production of passenger and transport aircraft of the AN, Antonov family, Mi helicopters, unmanned aerial vehicles, import substitution of goods from the Russian Federation.
.