In Vinnitsa region, spouses were killed in an accident with a truck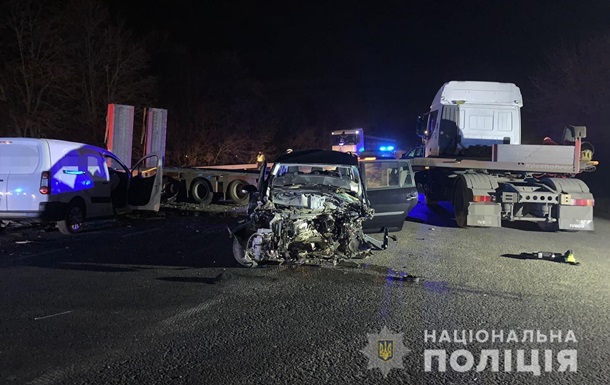 Truck driver was not injured in road accident
According to preliminary data, the truck driver drove into the oncoming lane during a U-turn, two cars flew into him.
In Vinnitsa region, as a result of a collision between a truck Iveko Stralis and two cars, two people were killed, two more were injured. About this on Saturday, November 27, informs press office of the local police.
The accident occurred on the eve of about 18:20 at the entrance to the village of Voronovitsa.
According to preliminary information from the investigation, the 55-year-old driver of the Iveko Stralis truck with a trailer for transporting large-sized vehicles drove into the oncoming lane during a U-turn, where there was a collision with two cars.
As a result of the accident, the 60-year-old driver of the Volkswagen Touran and his 58-year-old wife, residents of the Teplik urban-type settlement, Gaysinsky district, died from their injuries at the scene.
The 29-year-old driver and passenger of Citroen Berlingo, residents of Vinnitsa, were hospitalized with polytraumas in the intensive care unit of the hospital.
The truck driver, a resident of the Odessa region, was not injured. He was sober.
Earlier, near Kharkov, a truck turned over and crushed a passenger car. Two trucks and three cars collided in a large-scale road accident. Later it turned out that the MAN driver was driving the truck while intoxicated. As a result of an accident, a 49-year-old taxi driver and two of his passengers – a 49-year-old woman and a three-year-old girl – were killed on the spot.
.