Merkushina: Dissatisfied with the way she approached the season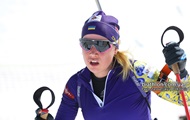 Anastasia Merkushina spoke about the women's individual race.
Ukrainian biathlete Anastasia Merkushina commented individual race result in Swedish Östersund, in which she took 71st place.
According to our athlete, she experienced health problems, which affected her final position.
"The mistakes, perhaps mine. I approached the wrong: I was shaking at the first turn, so I lay there and needed to catch my breath. The fact is that 5 days ago I caught some kind of cold – my nose is clogged, I have mucus, I can't breathe Of course, I hoped it would be better, but this is the result. I couldn't even run, I didn't have enough oxygen. "
Merkushina also said that she was unhappy with her preparations for the season.
"I am a perfectionist, and I think that during the preparation there were a lot of negative moments, I didn't have much time. I am dissatisfied with the way I approached the season. Mostly these are my losses, but there are some preparation problems, but how did it happen. Perhaps I look a little in a negative light, because I always want to show only the best results and do everything well.
Now it is still difficult to assess, because I hoped that it would be better, since I did not have a fever and did not feel unwell. In training, I did everything well, did not miss anything, and when I ran the race, I felt that I could not. Perhaps this is still the first start, an individual race, you need to take a run and it will be better, "- said Merkushina.
Available on ISPORT results of all races World Cup.
.