Desna and Mariupol in the scoring shootout failed to identify the strongest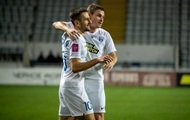 In an epic match, the teams went their separate ways.
On Sunday, December 5, as part of the 17th round of the Premier League, Desna hosted Mariupol. The match ended in a draw with a score of 3: 3.
By the 48th minute, the guests were leading in two goals – Alexey Kashchuk scored a double, but Desna did not give up and showed character. The club from Chernigov was able to score three goals in the period from 51 to 80 minutes.
The hero of the meeting was Alexey Kashchuk, who scored his third goal in the match, which brought the guests an important point.
After 16 rounds Desna is in 7th place with 25 points, and Mariupol is in 16th place with 8 points.
Right – Mariupol 3: 3
Goals: Arveladze, 51, Yurchenko, 57, Voloshin, 80 – Kashchuk, 29, 48, pen, 90 + 1
Right: Litovka – Zavisky, Selin, Safronov, Bolbat – Dombrovsky, Arveladze (V. Voloshin, 78), Kalitvintsev – Bezborodko (Shevtsov, 78), Budkovsky, Yurchenko.
Mariupol: Turbaevsky – Drambaev, Mampassi, Melichenko, Stasiuk – Czech (Peterman, 68), Mishnev, Ocheretko, Topalov (Chrome, 76), Kashchuk – Cold.
Warnings: Kalitvintsev, Dombrovsky – Mishnev, Czech
.