In Germany, three parties signed a coalition agreement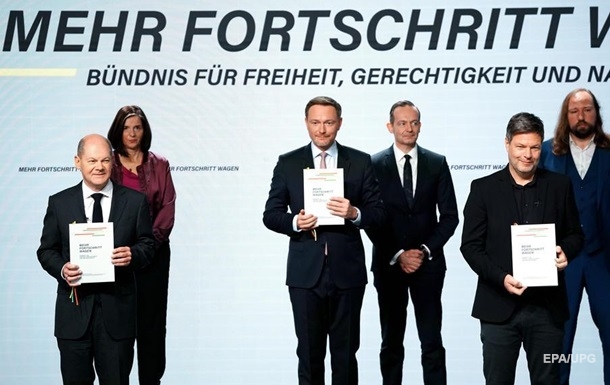 The leaders of the three parties demonstrate the signed coalition agreement
The Bundestag is to approve Social Democrat Olaf Scholz as the new chancellor of Germany on 8 December.
In Germany, the leaders of the Social Democratic Party of Germany, the Union-90 / Greens and the Free Democratic Party signed a coalition agreement. It is reported by TASS on Tuesday, December 7th.
It is known that the work on the coalition agreement has been going on since the beginning of October. This document is 177 pages long. He lays the foundations for the future cabinet for at least four years.
The Bundestag is now expected to appoint Social Democrat Olaf Scholz as its new chancellor on 8 December. On the same day, the new government is to be sworn in, and members of Angela Merkel's cabinet, who are now acting, will finally step down. This completes the process of forming a new government.
Note that on the eve of Olaf Scholz presented federal ministers from the SPD for the future government.
.