Vernidoub: Shakhtar want revenge, it will be a tough match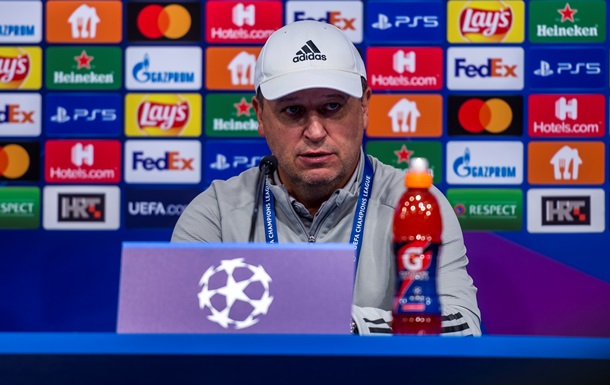 Фото: Getty Images
Vernidoub: The result should first of all put pressure not on the Sheriff, but on the Miner
Sheriff's head coach spoke about his expectations from the group round match against the Pitmen.
The result of the match will put pressure primarily on Shakhtar. The Pitmen will want to take revenge for the 0-2 loss in Moldova, and therefore it will be a tough match. Sheriff's head coach Yuriy Vernidub announced at a press conference before the Champions League group round match.
The Ukrainian specialist also said that he understands perfectly well who he has to play against. Therefore, the Sheriff is well prepared and will enjoy the game and do everything to achieve a positive result.
"I am very glad to be back in Ukraine at this beautiful Olimpiyskiy stadium. I am very happy to be at home again and that tomorrow there will be a game with a good Ukrainian club, the leader – Shakhtar.
This is the final game of the group stage of the Champions League, unfortunately, neither we nor Shakhtar go further, but Real and Inter are. Nevertheless, we are happy that, regardless of the upcoming game, we took third place and will participate in the 1/16 finals of the Europa League.
In this group, we were predicted from the very beginning that we would be fourth, but we managed and were able to bypass such a strong club as Shakhtar. We understand that even if the game doesn't solve anything, there will be a difficult match. I know Shakhtar is a fighting team that will really want to take revenge.
We understood perfectly well that it was a group of death, but with incredible efforts and desire we were able to achieve the fact that the Sheriff goes further, and the Shakhtar is left without the Eurobalance.
Our dream has come true, as I said, we visited a fairy tale. God grant that it ends on a positive, positive note. Life goes on, the Europa League is the Europa League, of course, here we also have ambitions.
Let's wait until December 13, when we find out the opponent in the playoffs. Serious and strong clubs play in the Europa League too. Perhaps by then we will have to rebuild the team, but this is our job, our life. We are ready for this ", – quoted by Vernidub Miner's website.
As a reminder, the Shakhtar – Sheriff match will take place today, December 7, in Kiev at the NSC Olimpiyskiy. Beginning at 22:00. For the Pitmen, this will be the last European competition this season.
.