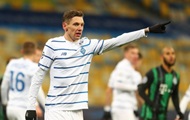 The teams will play in the sixth round of the Champions League group round.
Dynamo Kiev will play away against Portuguese Benfica in the final round of the Champions League group stage.
The teams have decided on the starting lineups for the game. So, on the right flank of the defense, Mircea Lucescu released Oleksandr Tymchik, and Denis Garmash will play at the forefront of the attack.
Benfica: Vlahodimos – Andre Almeida, Otamendi, Vertonghen – Weigl, Pizza, Gilberto, Joao Mario, Grimaldo – Rafa Silva, Yaremchuk
Spare: Leyte, Everton, Nunez, Mayte, Seferovich, Diogo Gonsalves, Lazaro, Taarabat, Paulo Bernardo, Gonzalo Ramush, Morut, Ferro
Dynamo Kiev: Buschan – Tymchik, Sirota, Zabarny, Mykolenko – Shaparenko, Sidorchuk – Tsygankov, Buyalsky, Verbic – Garmash
Spare: Boyko, Shepelev, Ramirez, Shabanov, de Pena, Lednev, Andrievsky, Karavaev, Vitinho, Kulach, Shkurin, Antyukh
The starting whistle will sound at 22:00 Kyiv time.
It is worth saying that Dynamo will definitely finish the group stage in last place and have lost all chances for a Euro spring.
As a reminder, ISPORT will be available online broadcast of the match Benfica – Dynamo.
.