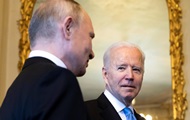 If the United States imposes the promised sanctions, then Russia will turn into an economic appendage of China, the media write.
The talks between Presidents Joe Biden and Vladimir Putin on the situation on the Ukrainian borders in recent months were assessed positively by Russia and Ukraine. Washington did not give estimates, only once again reminded of the price that Moscow will have to pay for the invasion of Ukraine. Perild.com says that the world press writes about the call.
Ukraine's fate still hangs in the balance
New York Times, USA
The videoconference of the leaders did not resolve the crisis at the borders of Ukraine. Neither the Kremlin nor the White House reported significant progress, and Ukraine's fate hangs in the balance.
The White House offered Putin a choice between a diplomatic solution and serious economic and political consequences if Russia invaded Ukraine. Whether Biden's threats will deter the Russian leader from invading is unclear. Putin looked conciliatory …
This situation poses a real threat to the Nord Stream 2 gas pipeline. There will be no peace in Ukraine – there will be no money from the sale of Russian gas …
The US warnings are not unfounded, and Washington has secured a commitment from Germany that the launch of the new Russian pipeline will be delayed or canceled.
Biden's talks with the leaders of France, West Germany, Italy and Britain immediately after the videoconference prove that America has secured the support of key allies. This means that Putin's prolonged attempts to drive wedges between the United States and its allies, and the hope that this will weaken resistance to Russian actions and undermine the unity of NATO, have been defeated.
Russia to become an economic appendage of China
Süddeutsche Zeitung, Германия
Biden cannot prevent Putin's attacks on Ukraine. The purpose of the summit was different. Biden told Putin what price Russia would have to pay to invade Ukraine.
Seven years ago, after the predatory seizure of Crimea, Moscow got off with the freezing of accounts in Western banks for some influential figures from the Kremlin's entourage, and Russia lost its voice in some international organizations.
It was funny, and the aggressive actions undertaken by Putin since then showed that such small things did not impress him …
In the event of an invasion, the current authorities in the United States will impose tough economic sanctions against Russia, which will make it impossible for almost all business transactions of the Russian Federation in which at least one dollar is used …
Due to Western sanctions, the already not very impressive Russian economy in the medium term will in fact turn into an appendage of the Chinese economy, except for one or another barter deal with Syria and Venezuela. Putin must decide if he wants to.
Ukrainians will fight fiercely
Washington Post, США
It remains to be seen whether Putin will heed US arguments. It is difficult to be guided by logic in this case, because stubborn, narcissistic leaders sometimes do stupid things …
If Russia goes to war against Ukraine, then in the early days Putin will face chaos … The Ukrainian military cannot compare with the Russian, but now they are stronger than in 2014, when Putin invaded Crimea.
In addition to the clash between the two armies, a prolonged guerrilla war will begin in Ukraine. Former US Ambassador William Taylor, who knows Ukraine and Ukrainians well, has no doubt that it will be so if the Russians rush in and try to stay. "The Ukrainians will fight fiercely," he emphasizes.
In addition to immediate losses, the long-term consequences for Russia could be much worse. Even if Putin installs a government in Kiev, the Moscow-dominated Russian economy will be destroyed by promised US sanctions.
There is the X factor – the war in Ukraine will return to Russia and Belarus. Polls conducted by the Levada Center in Moscow show that Putin's campaign to suppress Ukraine does not appear to have majority support in Russia. As the number of victims grows, so will the political pressure on Putin and his authoritarian friends.
It would be very foolish for Putin to think that the war in Ukraine will be a pleasant walk for him.
War is in the air
Independent, Britain
The declared annexation of Crimea and the undeclared partial occupation of the eastern part of Ukraine leave little doubt about the ill will of Russian plans for a free and independent sovereign state …
There is little Putin would like as badly as the return of Ukraine to the Russian orbit. This would please the patriotic but troubled Russian people and strengthen Putin's claim to be the heir to the tsars and Joseph Stalin.
If Putin thought it would go unpunished, he would have invaded Ukraine that very morning.
The extent to which he believes that he can get away with such a blatant act of armed aggression directly depends on Putin's perception of the degree of Western resistance … war. Without this, Putin will feel weak.
Biden still believes he can change Putin's mind
Neue Zuercher Zeitung, Швейцария
It seems that Biden still believes that he can convince Putin with his logic with the help of good arguments … However, in the worldview of the Kremlin head there is no place for Ukraine's right to self-determination. Putin has spoken about this many times.
Therefore, in this conflict, Biden must be able to create as plausible and terrifying a threat to Moscow as possible.
Most experts continue to believe that the Kremlin leader is not really plotting a large-scale invasion of Ukraine, but with his threats he wants to force Biden to make concessions … Nevertheless, Biden needs to think carefully about what he is ready to do if Putin, as has happened before, is not afraid economic sanctions alone.
Putin's fear
Times, Britain
It's hard to say if such an attack is Putin's real goal … He harbors no illusions that an invasion would come at a very high cost … regime.
Regardless of how many opponents Putin jails, as long as Ukraine continues to resist Russian interference and remains democratic and free, it runs counter to Putin's far-fetched anti-historical claims that Western liberal values ​​are unsuitable for Russian society.
News from Perild.com in Telegram. Subscribe to our channel
.