Most regions are in the "yellow" zone
Odessa region left the "yellow" quarantine zone and moved to the "orange" one. There are still ten regions in the "red" zone.
In the "yellow" quarantine zone as of Friday, December 10, there are 13 regions, 10 – in the "red" and two more areas – in the "orange". This follows from the data on the website of the Ministry of Health.
So, the "yellow" zone remains the largest – it contains Kiev and 12 regions:
Dnipropetrovsk,
Transcarpathian,
Ivano-Frankivsk,
Kirovograd,
Luhansk,
Lviv,
Poltava,
Rivne,
Ternopil,
Kharkiv,
Kherson.
Chernivtsi.
There are still 10 areas in the "red" zone:
Vinnytsia,
Volynskaya,
Zhytomyr,
Zaporizhzhya,
Kievskaya,
Nikolaevskaya,
Sumy,
Khmelnitskaya,
Cherkasskaya,
Chernihiv.
And the "orange" zone was replenished with the Odessa region: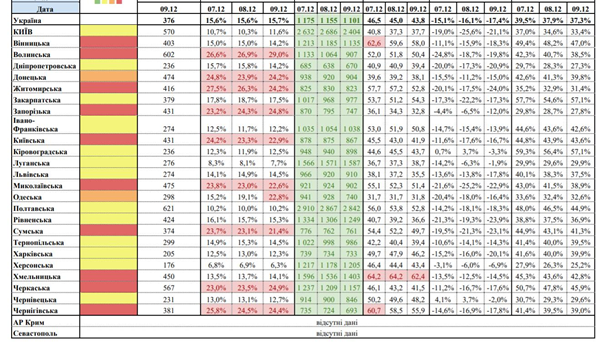 Earlier it was reported that half of Ukraine was in the "yellow" zone.
Recall that on December 6, new quarantine rules came into force, providing for increased restrictions in the yellow zones. In particular, visiting public events, the work of cinemas, theaters, catering establishments and gyms will be allowed only if 100% of the teams and visitors have at least one dose of vaccination.
News from Perild.com in Telegram. Subscribe to our channel
.