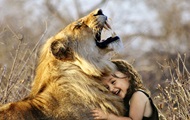 Doctors amputated the girl's arm above the elbow after she was bitten by a lion from the zoo. This happened during a photo shoot.
In a zoo in Yemen, a lion bit off the hand of a two-year-old girl. It happened while taking a photo near a cage with an animal, writes Gulf News.
The girl put her hand through the grate of the aviary, and the predator bit off the limb. The father, who was photographing his daughter at that moment, lost consciousness after what he saw and fell into a coma. Both of them were hospitalized.
Later, human rights activists found the father and the zoo administration guilty of the tragedy. In particular, for the fact that the administration neglects the rules of behavior for children, who very often come close to cages with predators.
We will remind, earlier in Mexico City, a lion escaped from a ranch and killed a man.
In South Africa, a lion killed an antelope right on the road
News from Perild.com in Telegram. Subscribe to our channel
.