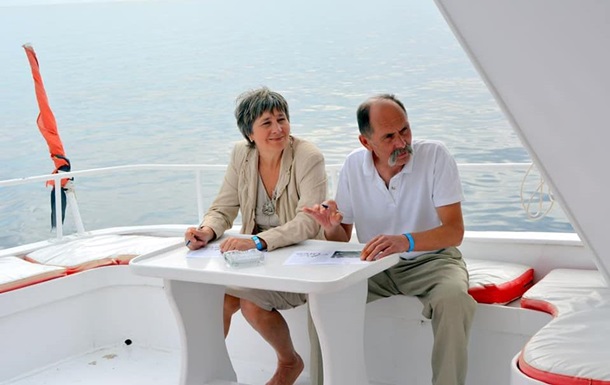 Photo: Facebook / Tatiana Chornovol
Father of Tatiana Chernovol Nikolay
The man became ill while swimming in the sea. During hospitalization, his heart stopped, but the doctors were able to start it. A couple of days later, the man died.
The father of the former people's deputy Tatiana Chernovol died unexpectedly in Egypt. He became ill while swimming in the sea. The man was 66 years old. Father's death reported Chernovol herself on Facebook.
"My dad Nikolai Chornovol died in Egypt. We still don't know what happened. I rested with my mother. We swam in the sea, watched the fish. Suddenly something happened. He threw out the mask and swam to the shore, my mother saw that she was not breathing, but Mom helped … I got up in shallow water – and passed out, "wrote the former people's darling on the social network.
According to her, her father was rescued by vacationers on the shore. The man was taken to the hospital, where doctors managed to start a heart that stopped during hospitalization.
"The analyzes were normal. The brain was alive, the heart was beating like an athlete's, it got better every day … at that time I was on the phone … I told him that I love … "Speak, speak", – my mother whispered, – "the saturation of the lungs went up" … I was delighted … And then everything stopped … ", – added Tatiana.
She noted that Egyptian doctors fought for the life of her father. But what exactly happened to him was never explained to the family.
"The insurance company at first in general blatantly lied, then they gave me the results of many tests and studies, our doctors looked over what could cause such a violation of the heart rhythm, up to stopping it, but found nothing …" that death could have occurred because of the poisonous fish lionfish widespread in Egypt.
The funeral will take place on Tuesday, December 14th. Father Chornovol will be buried in the village of Gora, where the family lives.
As previously reported, on vacation in Egypt, two nurses from Ukraine revived the Belarusian. He felt sick in the water. When they pulled him onto the pontoon, the man was not breathing. Ukrainian women revived the tourist for 20 minutes.
Earlier it became known that a citizen of Ukraine died in Egypt under strange circumstances. The deceased is the 21-year-old son of the famous Ternopil priest Anatoly Zinkevich – Anton.
News from Perild.com in Telegram. Subscribe to our channel
.