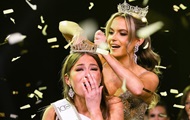 Vivid photos of the events of the outgoing working week of December 13-17, 2021: how Ukraine and the world lived.
Perild.com presents a selection of interesting and memorable photos of the events of the working week of December 13-17.
Jamala struck with a "brilliant" image with a long braid. Yulia Tymoshenko played drums.
In Kharkov, the police destroyed 400 kg of drugs. A protest action with inflatable tanks took place in Kiev.
MMA star Rachel Ostovich amazed with pictures in a mini bikini. A participant from India received the Miss Universe crown.
In the Odessa region, the marines conducted exercises. In Kiev, the driver demolished two cars and crashed into the mall.
Biden recognized a tornado in Kentucky as a federal disaster. More than two meters of snow fell at the Ukrainian polar station.
Multiple Formula 1 champion Lewis Hamilton became a knight. In Odessa, the car was installed on the balcony of the seventh floor. A fisherman from the Dnieper caught a catfish weighing 50 kilograms.
For the first time in history, a girl from Alaska won the Miss America pageant. The Polish soldier fled to Belarus.
Children's gangs and earflaps with underwear: photo of the week on December 6-10
News from Perild.com in Telegram. Subscribe to our channel
.