Vareniki-vyshyvanka, cache and snow of Egypt: photo of the day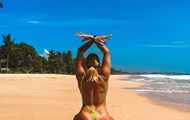 A selection of vivid photographs and illustrations of events that took place in Ukraine and the world on December 20, 2021.
Perild.com presents a selection of interesting and memorable photos of the incidents of December 20.
The Egyptian resort was covered with snow. Malaysia was flooded with large-scale floods.
There were footage of the aftermath of the typhoon in the Philippines. A new snow record at the Ukrainian station in Antarctica.
In the United States, a mysterious cache was discovered under the scandalous statue of Robert Lee. MARUV shared hot footage with her husband.
An underground alcoholic workshop was found in Transcarpathia. The collapse of a bridge in China killed four people.
In the Lviv region, a bus crushed a passenger car, children were injured. Under Exactly the wind broke the Christmas tree. In Ukraine, the largest towel was laid out of dumplings.
Miss from Alaska, ambulances on fire and catfish: photo of the day December 17
.