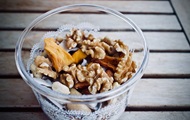 According to Solomatina, porridge, for example, oatmeal, or buckwheat, which can be steamed in a thermos, will be a good snack while traveling. However, the cereal should be regular, not instant.
"Ordinary oatmeal, which is cooked for 5-10 minutes, is also perfectly steamed. The same buckwheat, but buckwheat is longer," the nutritionist clarified.
In addition, as a snack, you can take with you whole grain bread, pre-cut vegetables and cheese, dried fruits (dates, dried apricots, prunes, dried bananas) and nuts.
"Such products are very easy to fit into ordinary jars of dietary supplements, say, or some drugs. Therefore, you do not even need to wash your hands, take it with your hands. Wherever you want: in front of the plane, anywhere. You take this jar out, and straight from her, without touching this product with your hands, you swallow a portion of nuts and calmly chew for yourself, "the doctor said.
The nutritionist added that in a stressful environment at an airport or train station, the body may release fewer enzymes, making it difficult for the digestive process. Therefore, heavy foods such as meat are not recommended, and high-quality canned foods for babies that are easy to open will do just fine.
"You just need to understand that even a healthy person who sits for a long time may have impaired gastrointestinal motility. And it may be difficult for him to digest meat that is served on airplanes," Solomatina emphasized.
Earlier, an American nutritionist called lentil soup "ideal" for health.
The expert spoke about the benefits of buckwheat
News from Perild.com in Telegram. Subscribe to our channel
.