In Lviv, in the middle of the street, a huge fountain started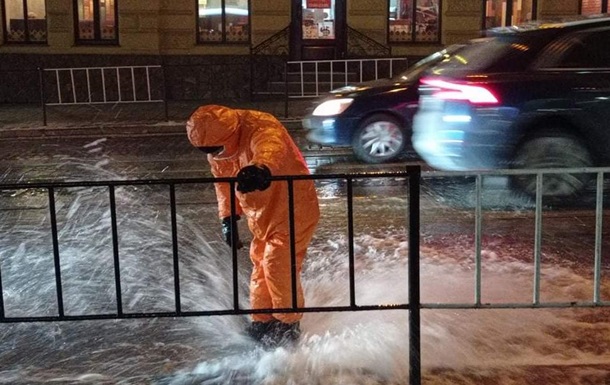 Photo: zahid.espreso.tv
Waiting for public utilities
While waiting for the public utilities, one of the rescuers was holding back the water on his own – he stood in a special suit on a lid placed on a broken hydrant.
In Lviv, because of a broken fire hydrant, a fountain started gushing in the middle of the street. The jet height reached about seven meters. It is reported by Espresso. West.
The incident happened on Thursday, December 23, at about 4 pm on Gorodotskaya Street.
As rescuers said, they tried to connect a hose of a fire engine to a pipe elbow in order to pump the tank with water. However, the knee broke and a powerful fountain of water formed.
Rescuers called workers of Lvivvodokanal. Since the public utilities were not there for more than an hour, rescuers found a way out of the situation.
They put a lid on the hydrant. To prevent it from being torn off by a powerful stream, one of the rescuers in a special suit stood on top of the lid.
Earlier, a powerful fountain gushed out of the ground in Kharkov. There was an accident in the main water pipeline due to which a two-meter fountain started to flow. 400 houses were left without water.
.