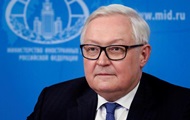 "When we say absolutely firmly and definitely that we demand an official withdrawal of the decision of the 2008 Bucharest summit that Ukraine and Georgia will become NATO members … when we say that further expansion of NATO should be ruled out in principle, when we say that NATO infrastructure and all sorts of events that are provocative for Russia must be rolled back to the positions that existed at the time of the signing of the Russia-NATO fundamental act in 1997, we are not bluffing. These are our real proposals. Understanding this must be implemented by all means, and we will study, "he said.
Ryabkov noted that negotiations on this issue can take place on different tracks.
"We do not exclude other tracks, I think, in the near future, clarity will appear here. We would not like one thing to drown behind the talk about the fact that there are different kinds of formats and they need to be used]," he said.
The Russian Foreign Ministry insists on the urgency of considering this issue.
"The issue is urgent, the escalation is serious, the problems are big, we must put an end to the advancement of NATO, NATO infrastructure, NATO capabilities and further east," Ryabkov added.
He believes that the negotiations will not be easy, but the Russian Federation is ready for this. "This is the meaning of our work, in order to find points of understanding even in the most difficult situations," Ryabkov stressed.
Earlier, the Russian Foreign Ministry published draft agreements on security guarantees and agreements on security measures for the Russian Federation and NATO member states.
In response, the White House said that the United States would not conduct consultations on security in Europe without allies in the EU, noting that it was discussing proposals with allies.
News from Perild.com in Telegram. Subscribe to our channel
.