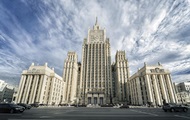 The Russian side continues to insist on the fulfillment of its requirements, in particular, the non-admission of Ukraine to NATO.
The West must either fulfill Moscow's demands for "security guarantees" or face "obvious risks for all OSCE participating States" that could have "irreversible consequences." This is stated in a statement Russian Foreign Ministry.
The ministry again recalled "the inadmissibility of the US and NATO military development of the territory of Ukraine, the further advancement of the alliance to the East and the deployment of threatening weapons systems near the Russian borders."
The Russian Foreign Ministry believes that European security depends on relations between the Russian Federation and the United States, "which bear a special responsibility for peace and stability on this continent," because they possess nuclear weapons.
"And here came the moment of truth, when it is necessary to decide whether we will follow the path of materializing the principle of the indivisibility of security, enshrined at the highest level in OSCE documents, or slide into confrontation along the lines of the Cold War, a new arms race, competition of counter-threat threats with obvious risks for all OSCE participating States. The latter option may have irreversible consequences, "- said in a statement.
Russia demands from NATO to stop military assistance to Ukraine
In the meantime, the United States promises to increase military support for Ukraine and impose sanctions against Russia in the event of an escalation of tensions.
News from Perild.com in Telegram. Subscribe to our channel
.