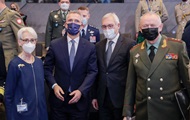 Experts and observers were controversial in their comments on the recent negotiations on Russia's demands.
US, NATO and OSCE summits with Russia took place this week in European capitals. The first round of talks convened at the initiative of Moscow, which could affect the fate of Ukraine, took place behind closed doors.
According to the available information, the parties failed to agree on anything in particular; Washington and Brussels categorically refused to discuss two of the three key requirements of the Russian Federation. Perild.com collected assessments of the past negotiations.
Unsuccessful negotiations
Talks were held this week in Geneva and Brussels on the pulling of Russian military forces to the Ukrainian border and Russian demands for "security guarantees," which include, among other things, Ukraine not joining NATO.
In short, Russia was unable to convince the United States and NATO to deprive Ukraine of the prospect of membership in the alliance. And the West did not get Moscow to guarantee a non-aggression against Ukraine and set a timetable for discussions on arms control.
The most revealing statement was the words of the chairman of the Organization for Security and Cooperation in Europe, Polish Foreign Minister Zbigniew Rau. "The threat of war in the OSCE area now appears to be greater than at any time in the past 30 years," Rau said January 13 at a meeting of the OSCE Permanent Council in Vienna.
Russian Deputy Foreign Minister Sergei Ryabkov, who participated in the talks, said that the United States and NATO "under no guise, for whatever reasons" are not ready to fulfill Russia's demands.
A series of talks with the United States on security guarantees went "unsuccessfully", according to the press secretary of the Russian President Dmitry Peskov. He noted that the statements about the introduction of new sanctions against Russia in the event of an invasion of Ukraine are an attempt to put pressure on Moscow, which could have negative consequences.
Russian Foreign Minister Sergei Lavrov, in turn, said that Moscow would not discuss US demands to return Russian troops to their barracks. "It already sounds not only about taking away [воинские части] from the border with Ukraine, as they say, but about the fact that these troops went to the barracks, "he said.
Peskov and Lavrov noted that Russia expects a promised written response from the United States and NATO following the talks within a few days.
Western representatives said that the negotiations were not easy and assured that they were ready for dialogue with Russia, but would not compromise on the territorial integrity of the post-Soviet countries, as well as against their right to join NATO and receive military assistance.
However, everything is Moscow's demand, which the West is ready to discuss. This is a refusal to deploy strike systems in Europe capable of threatening Russia. First US Undersecretary of State Wendy Sherman and NATO Secretary General Jens Stoltenberg spoke about this after the talks.
Experts disagree
Michael Kofman, director of the Russian program at the US Naval Analysis Center, draws one conclusion – the negotiations are at an impasse.
"The main question is whether Russia is ready to share the issues of security guarantees [такие, как отказ от расширения НАТО] and issues of strategic stability, such as arms control and military activities, "- said он BBC News.
Both Ryabkov and Glushko gave an unequivocally negative answer, Kofman emphasizes. They insist on discussing draft agreements that include all these issues at once.
"This is an ultimatum, because they mention some vague military-technical measures to which they are ready to resort. And, in fact, they are holding Ukraine hostage," Kofman said.
At the same time, a military analyst rejects opinions about Putin's unpredictability. He emphasizes that the Kremlin has for decades expressed dissatisfaction with the expansion of NATO and the deployment of American weapons in Central and Eastern Europe.
The real implications of the meetings in Geneva and Brussels will become clear next week – then Moscow expects to receive from Washington a formal answer to the problems raised in the negotiations, notes Kofman.
It is clear from the meetings that Russia will not get what it was formally trying to achieve, emphasizes Sir Lawrence Friedman, a British Academy member and professor emeritus in the Department of War Studies at King's College London.
"I don't think Russia will be able to achieve anything through these negotiations. They will not receive legal guarantees or agreements that would spell out the refusal to admit Ukraine to NATO. or deploying American long-range missiles there, "said a military historian.
However, the real goal of Russian diplomacy could be an attempt to contain the United States and NATO – to make them understand that Ukraine's membership in the alliance or the deployment of American warheads becomes a casus belli (a reason for declaring war – ed.), Fridman said.
Even if NATO is not going to host Ukraine for the foreseeable future, the alliance cannot publicly announce it because it was promised at the 2008 Bucharest summit, Friedman said. In addition, if we talk about it now, it will look like the result of Russian pressure.
"The more Russia puts pressure on this topic, the more difficult it is for [НАТО] to say that they are not going to accept Ukraine, "the expert added.
Alexander Gabuev, an expert at the Carnegie Moscow Center, says that Russia's demands are too high and the West will not agree to their implementation.
"And it seems to me that this is understandable and it is not a surprise either for Grushko, or for Ryabkov, or for their bosses." I'm afraid we'll find out soon enough, "the expert says.
In his opinion, Russia will not be able to do anything to make NATO refuse to include Ukraine and Georgia in its composition. Gabuev says the invasion of Ukraine or the deployment of new weapons systems outside Russia will only galvanize NATO and make the American presence in Europe even more in demand.
At the same time, Dmitry Suslov, Deputy Director of the Center for Comprehensive European and International Studies, on the contrary, believes that the results of the talks in Geneva and Brussels have already demonstrated significant progress compared to the situation that was a few months ago.
"For several years, NATO has refused to discuss Russia's initiatives on the possible creation of a new regime for the deployment of weapons in Europe, de-conflict initiatives," the expert says.
However, according to him, this is not enough for Russia today. But what Moscow is insisting on today – the new principles of European security – are no longer ready to be discussed by the US and NATO.
In this regard, Suslov sees two scenarios for the development of events… First, Russia accepts NATO's proposal and begins negotiations on the military-technical side – on arms control, on conventional weapons, on nuclear weapons, and on medium and short-range missiles, rules for the convergence of military aircraft and ships are adopted.
The second scenario for the development of events is a further increase in tension not so much between Russia and Ukraine, but between Russia and NATO.
"New weapons will be deployed, statements about the possibility of a nuclear war will be louder," Suslov said.
What the Western press writes
Unclear position of Russia. Wall Street Journal, USA
Western diplomats say Russia's position in the negotiations remains unclear. US officials say their proposals on military and other security issues within the OSCE are part of the obvious choice being presented to Putin.
On the one hand, a new Russian intervention against Ukraine will trigger unprecedented Western sanctions. On the other hand, bilateral negotiations between Washington and Moscow, discussions in NATO and consultations in the OSCE together provide an opportunity to find ways out of the crisis.
Diplomats note that Moscow is afraid of being drawn into lengthy negotiations within the OSCE, which could lead to a dead end. At the same time, Moscow is not ready to reject negotiations in principle, at least for now.
The ardor of the breakthrough subsided. New York Times, USA
Against the backdrop of a Russian troop concentration near Ukraine's borders, US and Russian diplomats have made it clear after an intensive round of talks that while both sides are ready to negotiate further, they are still far from an agreement that addresses both sides' security concerns.
Both sides have noticeably tempered any expectations of a diplomatic breakthrough.
Russia demands surrender. Frankfurter Allgemeine Zeitung, Germany
Putin's emissaries publicly behave as if the West should sign an act of surrender. This may correspond to the orders of their owner and the needs of the local (Russian – ed.) Press, but in this case it is futile …
Putin makes his imperial claims as unceremonious as if we were still living in the 19th or 20th century. He is not strong enough to insist on this, but his previous attempts have done great damage, and not only in Europe. Putin caught the West by surprise, as he has often done in the past.
The very fact of negotiations is already a success. Sueddeutsche Zeitung, Germany
The fact that Moscow does not rule out further negotiations is already considered a success … The very fact of the meeting (representatives of Russia and NATO – ed.) … after two and a half years is already considered a small sensation, given the terrible relations between Russia and the alliance …
What will happen next? NATO will monitor Russian troop movements and prepare in case diplomacy fails … Whether it comes to this depends on one person: will Putin continue to threaten?
The complex issue of sanctions. Guardian, Britain
Diplomatic sources note that a full-scale invasion will rally the EU and propel it into decisive action, while an ongoing campaign of hybrid attacks, Russian disinformation and support for puppet forces in Donbas makes the decision more difficult.
European countries trade more with Russia, and they will lose more than the United States, so thinking through sanctions by Europe is a more complicated process.
NATO's hypocrisy towards Ukraine. Financial Times, UK
Even if Russia did not accumulate huge forces on the Ukrainian border, it would be hypocritical for NATO to insist on the principle of "free choice of what is necessary for defense", remaining unprepared to grant Ukraine membership.
There is no defeat in declaring that NATO has no plans to do something that it does not plan to do anyway. If the recognition of this reality helps to avoid a conflict that could destroy Ukraine and destabilize Europe, then this does not seem to be too high a price.
News from Perild.com in Telegram. Subscribe to our channel
.