In Ukraine, the wind knocked down many Christmas trees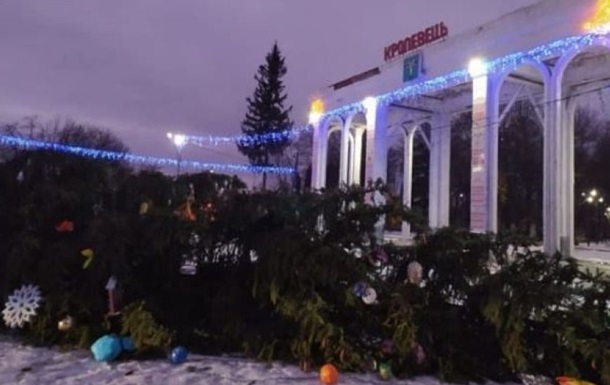 Photo: from open sources
Elkofall occurred in the cities of Ukraine
The northern regions were hit the hardest by the storm. Falling trees were caught on video.
In a number of regions of Ukraine on Friday, January 14, due to gusts of wind, the speed of which reached 27 m/s, New Year trees fell. Photos and videos of the consequences of the elements were published on the Web.
Thus, the northern regions suffered the most from bad weather. In particular, in the Chernihiv region, the main city Christmas trees fell in Nosovka, Korop, Bobrovitsa. In the regional center itself, the wind also knocked down a Christmas tree, but it was not an attribute of the holiday.
The tree in Korolevets of the Sumy region also suffered from the elements. Here, the festive tree was not saved by the fact that it was fixed with six cables. The tree also fell in Belopolye.
In the Lviv region, a Christmas tree decorated with illumination collapsed in the city of Pustomyty. However, local residents claim that the cause of the incident was the poor fastening of the tree, and not the weather.
The fall of the Christmas tree in Lubny, Poltava region, was caught on video. The tree was literally bent in half by the wind.
Recall, on December 19, three New Year trees fell in Ukraine in a day. The reason was also a strong wind.
A similar incident occurred on January 5 in Kalush, Ivano-Frankivsk region. In all cases, there were no casualties.
News from Korrespondent.net in Telegram. Subscribe to our channel
.