Record, ancient finds and Klitschko: photo of the week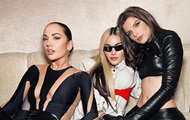 Vivid photos of the events of the outgoing working week on January 10-14, 2022: how Ukraine and the world lived.
Korrespondent.net presents a selection of interesting and memorable photos of the events of the working week on January 10-14.
Tattooed Australian Amber Luke got rich in intimate photos. Ukrainian Rapunzel Alena Kravchenko stunned with spicy photos.
In the Nikolaev region, the pontoon bridge sank under the weight of a truck. Klitschko reported on the paid fine for parking.
In Dnipro, people complain about their neighbor's trash. Drivers strike in Lebanon. In England, a man took his son hostage.
In Kharkov, a car with children got into an accident, there are victims. In the Dnepropetrovsk region, a bus caught fire. Near Kiev, a car flew into a dump truck, there is a dead person.
Ceiling collapsed at Kharkiv metro station. In Kharkov, a fire broke out in the Holy Annunciation Cathedral. In Kiev, a tractor caught fire during work.
Backgammon found in Oman is 4,000 years old. In the US, found the wreckage of the "ghost ship" that disappeared in the 17th century.
The Golden Globe was first won by trans woman Michaela Jay Rodriguez. For the first time a nuclear-powered aircraft carrier in the United States was headed by a woman.
A caroling record was set in the Carpathian region. In Fiji, Cyclone Cody caused widespread flooding.
Firefighter nuns and a surviving minister: photo of the week 20-24 December
News from Korrespondent.net in Telegram. Subscribe to our channel
.