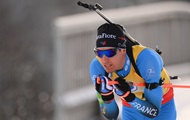 The failed shooting of the Ukrainian biathletes brought to naught all chances for high places at the end of the race.
On Sunday, January 16, the men's pursuit took place as part of the final competitive day of the sixth stage of the Biathlon World Cup in Ruhpolding, Germany.
The German pursuit was won by Frenchman Quentin Fillon Maillet, for whom this victory was the fourth in the pursuit of this season. Kanten made two misses (once prone and standing), but still quite confidently came to the finish line first.
Quentin on a roll – Fillon Maillet secures the sprint-pursuit double in Ruhpolding!🥳

🥇🇫🇷 @quentinfillon @FedFranceSki
Login Alexandr Loginov @russianbiathlon
🥉🇧🇾 Anton Smolski @bybiathlon

Watch live on https://t.co/bk5aBBso9Q and follow on the Official IBU App! 📲 pic.twitter.com/6nwo4BJEkj

– BMW IBU World Cup (@IBU_WC) January 16, 2022
Immediately after him, the battle for second place unfolded, which was won by the Russian Alexander Loginov, who only missed once at the firing line. Loginov was four seconds ahead of Belarusian Anton Smolsky, while Smolsky missed twice in prone shooting.
But the performances of Ukrainian biathletes can hardly be called even satisfactory. The main hope of the team Dmitry Pidruchny, who started seventh, after two penalty laps after the first shooting rolled back to the end of the third ten.
The captain of the national team gave too much strength during yesterday's relay race. Until the end of the race, Dmitry did not manage to return to the fight for high places, finishing only 40th with six penalty laps.
The rest of our biathletes, who also gave their best earlier in the relay, did not fare much better with shooting. This was especially evident in the final standing, where all Ukrainians made at least two misses.
A little wind definitely affected them, but even with such interference, the shooting could have been better. As a result, only Dmitry Pidruchny remained in the end zone, while Artem Prima finished 42nd, Bogdan Tsymbal – 46th, and Anton Dudchenko – 51st.
Ruhpolding, Germany. 6th stage of the World Cup.
Pursuit. Men
1. Canten Fion Maye (1 + 0 + 0 + 1) 31: 30.6
2. Alexander Loginov (0+0+1+0) +8.8
3. Anton Smolsky (1+1+0+0) +13.1
…
40. Dmitry Pidruchny (2+2+0+2)  +2:31,1
42. Artem Prima (2+0+0+2)  +2:40,8
46. Bogdan Tsymbal (1+1+1+2)  +3:08,1
51. Anton Dudchenko (1+1+0+3)  +3:31,4
Recall that on ISPORT are available schedule and results of all World Cup races.
.