The Ministry of Defense showed new winter shoes for the Armed Forces of Ukraine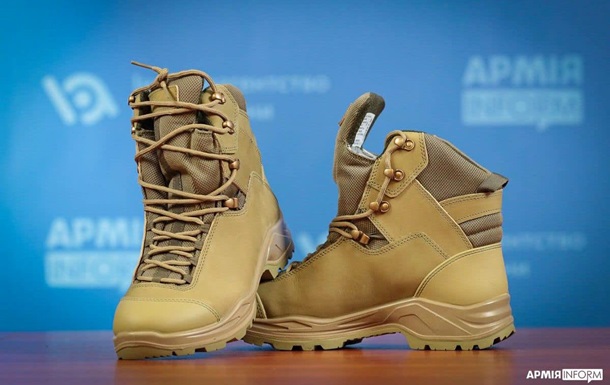 New models are different from previous ones
The new winter boots were tested by the servicemen themselves. They plan to buy shoes for the Armed Forces of Ukraine this year.
The Ministry of Defense of Ukraine presented a new winter footwear for military personnel. The boots are planned to be purchased this year. About it informed Deputy Head of the Committee on National Security, Defense and Intelligence in the Verkhovna Rada Yuri Mysyagin.
According to him, the new models differ from the previous ones in appearance and outer material. The boots have a reinforced toe and back, as well as a modified sole and a new insole.
In the new shoes for the Armed Forces:
changed the outer material of the shoes – they will be made of nubuck (since the skin did not provide the steam vent needed for the fighters – the boots "breathed", but not enough);
reduced the height of the boots (in order to make it easier to put on and lace up faster), improved the hooks (now the hooks will not interfere while bending the legs);
the toe and back of the ankle boots have become stronger, they are made of polyurethane and protect the leg from damage in front and behind;
the sole has been changed – it is now stronger and slips less, and the heel cut has been made for comfortable movement in boots on military vehicles;
the insole now has a layer of foil, perforation and an anatomical shape for maximum wearing comfort.
"These boots were developed not just 'by eye', but taking into account the multiple reviews and wishes of the servicemen, who themselves tested them," the people's deputy added.
Earlier it was reported that the Ministry of Defense developed women's shoes for the parade – with lacing and a smaller heel. This was done after the scandal that erupted after information appeared on the Facebook page of the Ministry of Defense that cadets of the Military Institute of the Kiev National University. Taras Shevchenko will walk along Khreshchatyk in high-heeled shoes as part of a military parade on the occasion of the 30th anniversary of Ukraine's Independence.
News from Korrespondent.net in Telegram. Subscribe to our channel
.